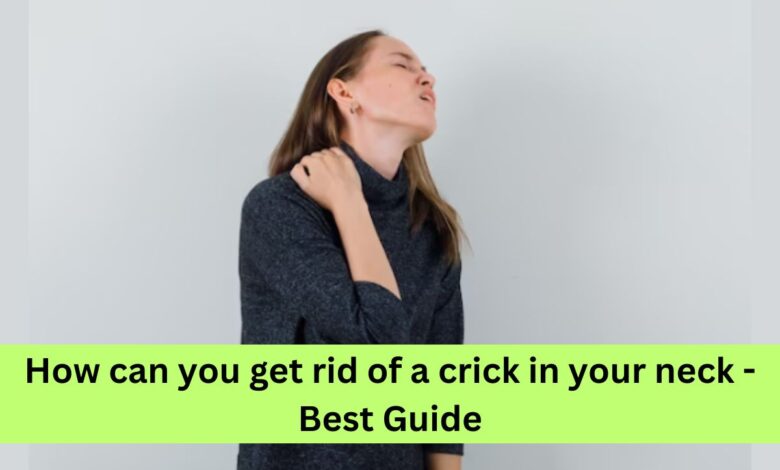 When you sit or lie in the same position for a longer period, your neck becomes rigid and stiff. This makes your neck uncomfortable, and you have difficulty moving. A crick in your neck is the condition when your neck and spine become inflexible. You experience a lot of pain when you have a crick, but you need not worry about it because you can get rid of this pain easily. I will suggest some important methods how to get rid of a crick in your neck. But for that, you have to read this article to the end.
Crick in your neck:
There is more than one reason for having a crick in your neck. It is the tightness of your lower neck or shoulder muscles. Inappropriate sleeping positions, sleeping without a pillow, and injuries are the most common causes. But if you have it in your neck, you can relieve your pain using the given methods.
Heating or cooling pad
When you heat your muscles, you reduce swelling and inflammation. You can use this heating pad on the affected part of your body and then stretch it slowly. It can help relieve your pain. But it is advised not to stretch your body too quickly. In case the heating pad doesn't do the job, you can use an icing pad as it has properties to reduce inflammation and give relief to your pain.
Massage your neck.
The second best home remedy for a crick in your neck. You can take any oil and slowly massage the affected area. As massaging will help to loosen your muscles. Always let someone else do your massage. It should be done in a circular motion with slow-moving hands. This will instantly relieve your pain.
Stretch your neck
You will get rid of the crick in your neck by relaxing your muscles. Once it becomes soft, you will feel a relaxing effect. You can stretch your neck in several ways. You can do it while standing or lying. You have to gently roll your head from shoulder to shoulder and let the ground pull your head down. You have to relax while your body is stretched. Stop stretching if it causes pain in your body.
Always start slowly.
When you feel that you have a crick in your neck, you need to feel relaxed first. You have to understand the intensity of how stiff your neck is and what you should do next. Gently move your head from one side to another and then see how you feel. Then, move your head up and down to see if you have any difficulty doing so as well. Don't stretch your head forcefully because it can make the situation even worse.
A chiropractor can help you get rid of a crick in your neck
If you have tried all of the remedies mentioned above and are still not getting rid of this condition and are having it weekly, then you need to see a chiropractor. There might be some serious issues with your neck that need to be addressed on time. There are a lot of people who offer such chiropractic services. Visit the nearest one as soon as possible if the condition is getting worse.
Conclusion:
A crick in your neck is a common problem, and four out of 10 people face it. Muscle spasms and spinal stenosis can also be the cause in some cases. Many people have found relief from their pain by using the remedies described above. You can use them, but if they do not work well, you need to see a doctor. I hope you would like the details shared above.
Visit Here cbdcannabisblogs.com for more blogs